Genesis Medical Plastics' applications and regulatory experience, technical depth, production versatility and post-production services help expedite customers' projects effectively at every stage and as requirements may change.
Customer Support from Project Concept Through Product Delivery
The ideal time to engage Genesis Medical Plastics is in a project's concept stage. In some instances, our customers have us test the formulations they provide to validate performance as a first step. We also analyze the melt flow of polymer formulations to pinpoint the ideal process conditions that will yield optimum quality and property retention.
On projects that involve components for medical devices, Genesis often produces prototypes for performance validation and in certain cases for market testing. These prototypes can be machined from stock shapes or fabricated from our calendered PEEK film.
Once a customers' material formulation and design for a medical device component are fully defined, we work together to identify the best short and long-term production method based on anticipated quantity requirements. Genesis also offers specialized post-production contract services when required. Once in production, our team continues to work with customers to ensure long-term supply requirements are met and to explore opportunities for improving efficiency.
Pre-production Project Support and Testing
Genesis Medical Plastics' depth of expertise in medical grade polymers, applications and quality and regulatory requirements simplifies our working relationship with clients from the outset. It facilitates communication about project requirements and expectations and provides an experienced sounding board when needed to refine concepts and goals.
Customers can also take advantage of our team's state-of-the-art laboratory equipment that can speed projects through the formative stages. Our Differential Scanning Calorimetry (DSC) equipment characterizes melt behavior of polymer formulations to better define the ideal process conditions in advance of stock shapes production or full-scale injection molding of components. This analytical tool can save time and material cost on start-up.
Genesis' calibrated Instron Universal Test Machine measures mechanical properties on test specimens and can help determine if polymer formulations are achieving targeted performance levels. Test samples can be taken from stock shapes and in many cases from injection molded components depending on the configuration and size.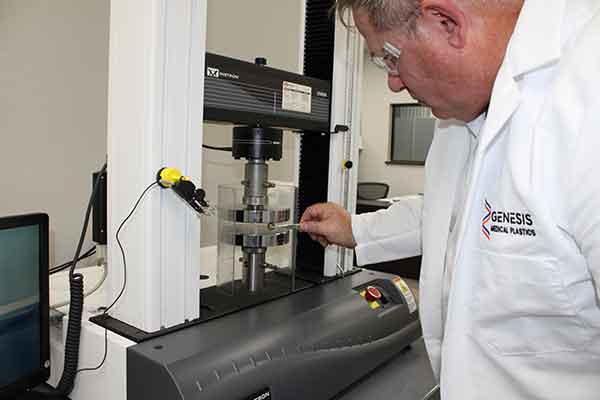 With extensive in-house experience in extrusion, machining and injection molding operations, Genesis' team can also help clients define the best manufacturing option for components based on design specifications and required quantities over the medical device's life cycle.
Decades of melt-processing experience with a broad range of polymers and additives gives us the ability to convert our customers' materials into stock shapes with the consistent quality they require.  Our expertise extends from implantable PEEK grades to numerous other biocompatible thermoplastics and includes proprietary formulations with high concentrations of specialized additives. We extrude these stock shapes in a diverse range of efficient custom sizes for our customers' use, or we machine them in our facility to produce the components they require.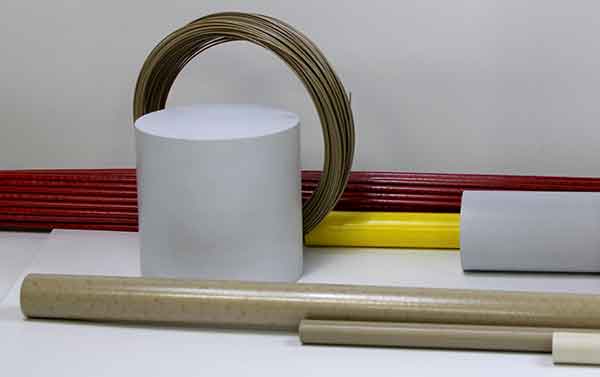 Precision CNC-machining, a major Genesis Medical Plastics resource, provides our clients with prototypes that we produce from stock shapes extruded from their polymer formulations. These prototypes can then be tested to validate their ability to perform in the medical device's actual operating environment.
Once product performance is validated and the final design is confirmed from prototypes, Genesis can also machine production quantities of components for market-testing of devices when required.
Genesis Medical Plastics' film calendering technology for implantable and other medical grades of PEEK has the versatility to produce short production runs for testing and prototypes, as well as full-scale production volumes.  We can also provide biocompatible PEEK film in the most efficient custom sizes based on the configuration of the component. Once in production, our calendering capability can produce PEEK film in the form of custom-sized sheets, continuous rolls or coils of strip to optimize efficiency and material utilization.
When production volumes are relatively low, or when longer term requirements are uncertain, machining is ideal option for making medical device components. Genesis' intimate knowledge of how our stock shapes made from different thermoplastics behave during machining helps ensure consistent dimensional tolerances and overall quality. In addition, by being involved in a machined component project in the design stage, we can define the stock shape size and configuration that will yield optimum cost-efficiency.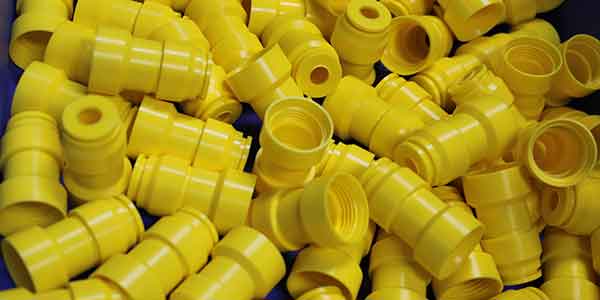 Many medical device components require production quantities that are best served by Genesis' injection molding capabilities. Other projects start off as machined components, then
reach levels that justify the investment in production molds. As opportunities for more efficient production of higher volumes arise, Genesis will work with customers to transition components seamlessly from machining to injection molding. Our facilities are well-equipped with best-in-class technology for both manufacturing methods.
Injection Mold Design Support
During DFM (Design for Manufacturing) reviews for injection molding projects, we work with customers to define such key requirements as dimensional tolerances and the best locations for parting lines, gates and knock-outs that can affect appearance and performance. Another tool we use is mold flow analysis for a specific polymer formulation. The technology analyzes specific polymer formulations and aids in optimizing the performance, appearance and overall quality of the molded component as well as its production cost.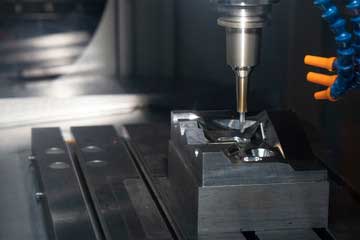 Mold Building and Maintenance
Customer support on injection molding projects extends to mold-building and maintenance over the life of the component. Our in-house services include EDM (Electrical Discharge Machining), surface grinding and other capabilities required to build and service high quality injection molds. We also work with domestic mold builders who provide highly specialized capabilities when required.
Post-production Services and Support
Our medical device customers sometimes require a variety of special services for components that we have machined or injection molded for them. Among the capabilities we offer:
Laser etching for identification and traceability
Ultrasonic cleaning and specialty packaging to meet specific compliance requirements
Machined de-gating of injection molded parts
Post-machining of injection molded parts for added design features
ASTM test specimens made of customers' materials
ASTM properties testing on customers' material samples
CT scanning to confirm the internal integrity of molded or machined components as well as rod and plate in lengths under 9.0 inches (228.6 mm)
Ultrasonic scanning to validate uniformity throughout the entire length of a machinable shape
Genesis respects the importance of dependable delivery of our products and services, and how it impacts the production schedules of our medical device manufacturing customers.
To ensure service reliability, we work with customers on several levels, including incoming supply timing and inventory of their polymer formulations, production planning based on forecasts, and on-time shipping dates to meet their manufacturing timetables.