PEEK in Dental Implants and Devices
Are PEEK dental implants a viable alternative to metal or acrylic?
High performance polymers like PEEK have been utilized in various dentistry applications, including healing caps, bridges, attachments and support structures. As the oral cavity is sensitive to pain and discomfort, medical professionals must be careful in selecting the right material for their patients. Where metal was once the only choice in dental devices, it is now being rapidly replaced by high performance polymers. Among PEEK dental applications, removable partial dentures, or RPD, represent one of the most exciting and innovative developments regarding PEEK and PAEK in dentistry.
RPD are not new to medical professionals, as they have been a successful form of dental replacement for many years. Though they can restore dental function to a large degree, RPD can be uncomfortable and generally unsatisfying for patients to manage if they are developed using outdated materials and methods.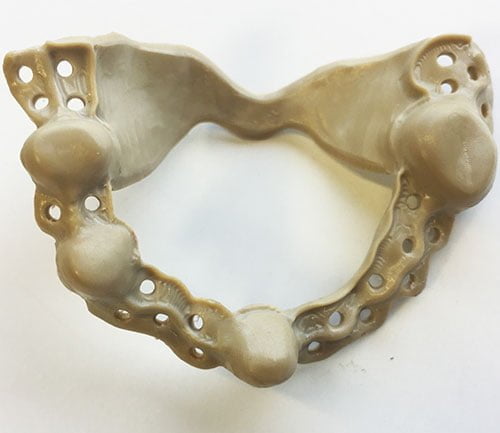 RPD are customized to the patient to encourage a comfortable, tight fit, and consist of several connector components, including a supporting frame and the replacement teeth themselves. In some instances, the teeth adjacent to the missing tooth (or teeth) are shaped in order to accommodate the RPD. This also produces a uniform look and a stronger fit. Further, the RPD are usually clipped to existing teeth to keep them locked in place.
This is an approach that has achieved admirable success, but medical professionals are moving away from titanium or cobalt chrome dental devices and using PEEK and PAEK instead. There are many reasons for this transition, including:
Metal RPD and implants represent a risk to surrounding tissue, including surrounding teeth. Constant contact and abrasive forces can damage existing teeth, causing premature wear. Further, metal sensitivity can be a problem among certain patient populations, and some patients are allergic to metal and/or metallic ions resulting in adverse effects.
2. PEEK and PAEK are more comfortable
PEEK and PAEK components are much lighter than their metal counterparts, so they are easier for patients to tolerate long term. PEEK and PAEK do not create a metallic taste in the mouth, either, which is a noted problem for some patients with metal RPD or implants. Also, PEEK and PAEK offer superior mechanical properties over acrylic materials leading to improved longevity of the RPD. Improved mechanical qualities make chewing more comfortable for patients as well, so it's no surprise that patient feedback on PEEK and PAEK devices is overwhelmingly positive.
3. Noninterference with imaging equipment
Metal is immediately noticeable when it glints inside of a person's mouth. Most patients would rather conceal their dental work as best they can, and the presence of conspicuous metal renders that difficult. PEEK and PAEK offer better aesthetic qualities because they are less noticeable when the patient is smiling or speaking. Also, PEEK and PAEK RPD can be designed in a spectrum of colors, allowing for a perfect color match between the device and existing teeth and gingiva.
PEEK and PAEK more closely mimic the physical properties of bone, and specifically its stiffness, compared to metal alternatives. This similar modulus is particularly important for dental components, as the modulus results in better load sharing. Bone density is more easily maintained if the bone in the maxilla or mandible maintains some load. PEEK and PAEK ensure that is the case.
5. PAEK and PEEK components are fabricated using existing dental milling technology
PEEK and PAEK milling discs can be sent to dental laboratories around the world, similar to metal milling discs. RPD frames and other components can be readily developed from these discs, so patients don't have to wait long for their high-performance polymer based RPD or other components.
6. PAEK and PEEK do not interfere with imaging technology
PEEK and PAEK are completely invisible on CT, MRI and X-ray scans, leaving no artifact behind that could mar the image's clarity. This is a valuable feature in patients expected to undergo future treatment.
PEEK and PAEK dental devices offer clear advantages over metal and acrylic alternatives, and with research efforts being poured into making PEEK and PAEK devices even better, this will continue to be the case well into the future.